OK, since I have SO many details and pics to share from Creative Escape 2009, I thought I'd break them up into a couple of separate posts ... Tuesday thru Thursday first, and then soon I'll post the happenings of Friday thru Sunday.
Otherwise, this would be the longest blog post ever!
But first, I'd like to shout out a BIG thanks to my sweet Sal for tolerating all the madness that is CE ... listening to me yap about it for months and months beforehand ... agreeing to the expen$e of it ... running to Best Buy with me at the last minute to get a new reader for our camera's memory card ... getting up at 3:30 AM to take me to the airport, all so that I could catch an early flight & enjoy more time in Phoenix ... giving Buddy & Aruba so much TLC while I was gone ... and for picking me up at the airport in the middle of the night when I got home (loved seeing your smiling face when I got off the plane!). Thank you Sal, for CE ... it's much more than just a scrapbooking weekend; it's "soul food" for me and I appreciate it!

Tuesday at Creative Escape:

Here's what my blog's countdown clock looked like as I left for Phoenix ... it was definitely time to let the fun begin!
I arrived in Phoenix tired after a long cross-country flight from Florida, trying to adjust to the time zone difference. I had some help from the
Aji Spa
(LOL), which is at the beautiful
Sheraton Wild Horse Pass Resort
where CE was held...this is the resort's gorgeous pool area (photo courtesy of my fellow CE'er Timi F., shown below, right, with Kyoko):
I was certainly on my way to feeling better after Aji's refreshing "Mo'otk" massage ... 80 minutes of pure bliss that's specifically meant to help with jet lag and travel fatigue. Citrus scents + a scalp massage + a heated foot mask = Heaven. Loved it! :-)

Feeling refreshed, I met up with my friend Diane (I'm waving hi Diane!), who also flew in that day, from Montana. We enjoyed a nice pizza dinner together ... all while watching a stunning Arizona sunset (see it in previous post).
I went back to my room fully intending to blog, but fell into bed instead.

Wednesday at Creative Escape:
Lots more CE'ers arrived on Wednesday, and it was fun to meet up with everyone again, and to make some new friends too. I've met the nicest gals through CE ... made wonderful friendships. I loved seeing everyone wearing zebra stripes in every form of fashion too, what a hoot!

That morning, Diane and I jumped in a rental car and went on a scrapbook "shop hop" around Phoenix. Such a great time! It was a whirlwind visit to 5 stores, then we ran out of time (and energy). We did a "loop" around the city, as best we could ... Phoenix is huge! We went to Melrose Vintage (downtown Phoenix), Scrapbooks Etc. & Mystic Paper (both in Mesa), and Scrapbook Barn & Scrapology (both in Gilbert). It was the first time I used the GPS in my iPhone ... I had it all programmed with Phx sb store locations, and we were able to just zip from one to another, cool!
I caught Diane in the shopping act at Melrose Vintage:
And, of course, I wore my now-famous shopping shirt that says "My husband lets me buy all the scrapbooking supplies I can HIDE." It's a riot and gets laughs at every sb store I visit!
I love seeing all the cute displays, each store really has its own personality. These are scenes from Scrapbook Barn (and they have some clever page kits!):
The other fun part about shop-hopping was that we met up with other CE-ers doing the same thing! Here's me and Kyoko after a fun shopping spree at
Mystic Paper
(yes, Sal, that's a bag in my hand! you caught me! *tee hee*):
We ended the day with a Mexican dinner (enjoyed some awesome veggie tortilla soup!), and then went back to the hotel. It was late, and I collapsed into bed.

Thursday at Creative Escape:
Thursday was the official start of CE. In the morning, I waited for the opening of the on-site "CE store".
That's when all the unique CE-themed goodies are put out, and it's first-come, first-served ... they sell out quickly and when they're gone, they're gone. We all had fun browsing around (note the gals in the zebra hats!)
Last year I was disappointed to miss out on some neat items at the CE store, but this year I knew better!

It was also time to pick up our registration materials, which included our CE totes in the most yummy shade of green. And I had all the teachers sign my CE tote ... what a fabulous keepsake!
The bag even includes a pocket for our water bottles ... and of course, they gave us bottles with zebra CE labels! I just love all those little touches that the CE staff adds to the event!
The registration table looked so calm and orderly before hundreds of frenzied scrappers descended on it (love the zebra balloons)!
And look at all those pretty beaded lanyards awaiting our nametags ... so exciting! Like I said, lots of special touches at CE! Why use a string when you can wear "jewelry"?
Barb and I were goofing around with some of the CE photo props ... except the zebra & lime green bag that I'm holding is real ... it's mine! And I let her wear the crown, LOL:

Then I was off to the hotel lobby to meet Esther, who had so kindly coordinated a giant order of gourmet cupcakes for us from Sprinkles. I got there and saw boxes and boxes of cupcakes ... thanks so much for all that effort, Esther! I ordered 2 flavors, coconut and key lime. Oh! So! Yummy!

All of Thursday afternoon was split between the Trunk Show and the Technique Boutique. As the name implies, the Trunk Show is where each of the 8 CE teachers has a table displaying his/her crafts. So many beautiful projects! It's also a chance to meet and hang with the celebrity teachers, get autographs and take photographs. Before the event, I had a CE craft apron made, and I blinged it up with glitter and rhinestones ... then I had the teachers all sign it in lime green ink during the Trunk Show ... it came out looking spectacular, another fab keepsake that I'll treasure!
(photo credits: the shots of me with the teachers were taken by my CE pal Diane, thanks!)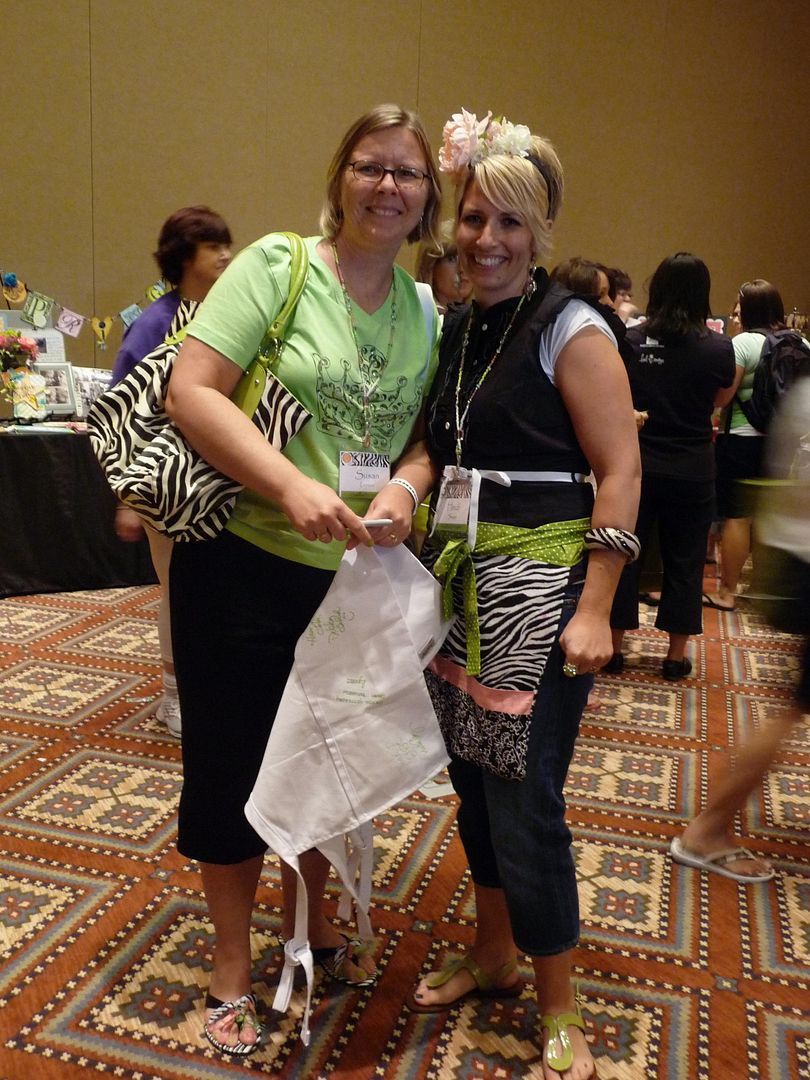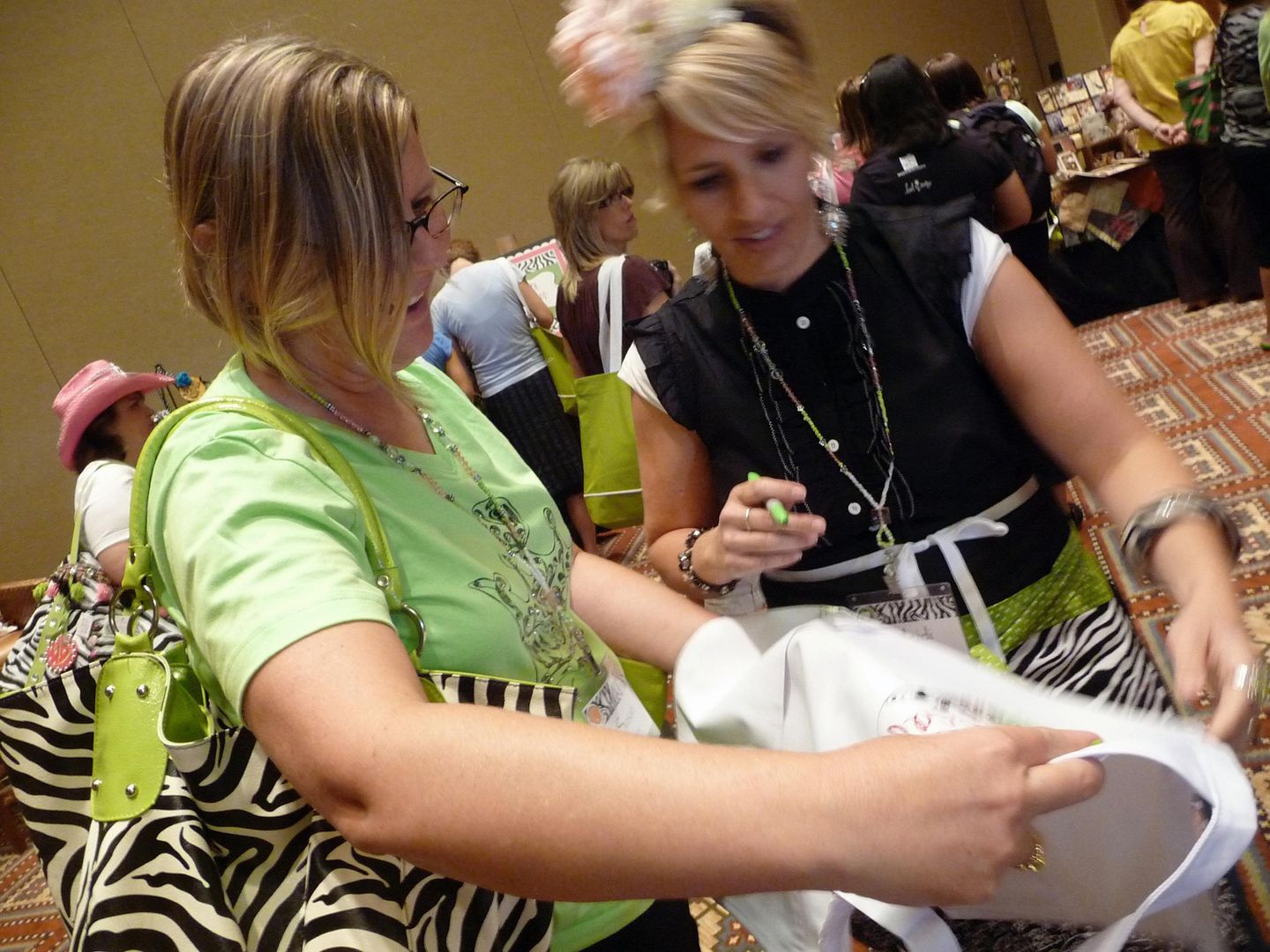 Heidi loved what I did with my apron, which thrilled me because she's the Creative Queen!

I'm always looking at Heidi's projects on her blog, so it was nice to see them in person at the trunk show:
Sharing a fun moment with

Debby Schuh:

from L to R: Diane, Lorraine,
Tim Holtz
& me
Amazing Story: Lorraine & Diane were friends & neighbors in Australia, while Diane lived there for a few years, back in the 80s. They had not been in touch since, but fate re-united them at Creative Escape! Neither knew that the other was attending CE 09, and they just happened to meet up on the airport shuttle on the way to the resort. Isn't that incredible?!?!?
The Technique Boutique is a series of "stations" where you do an activity or project. They teach some of the techniques that we'll need to use in the workshops, and also give away product samples. Fun stuff! I also got to spend time with my friends Mona (from Hawaii, lucky girl!) and Myra:

As if that wasn't a great enough beginning to CE, a fun Welcome Ceremony was held Thursday night ...
I love that CE is an event with attendees from all around the world:
The event co-founders, Heidi Swapp (my fave sb'ing designer!) and Doug ("Mr. Bazzill"), of the Bazzill Basics cardstock company, gave an overview of the event, formally introduced the teachers, and made the announcement that we had ALL been hoping for ... that there will indeed be a CE 2010 ! The crowd (all 650 of us) went WILD in our zebra stripes !!! Such HAPPY news!
And to give you an idea of why I was (and still am)
so exhausted ... the fun continued immediately after the Ceremony ... we were constantly on-the-go! ... of the 650 attendees, 300 of us had been on the CE message board for the months preceding the event ... and all 300 of us gathered in the hotel lobby for a P-A-R-T-Y !!! It was a great chance to mingle, hang out, chat, laugh, and even win door prizes. It was almost funny to see hotel security hanging around ... I suppose 300 scrapbookers could cause trouble, right?!?!?
"The Susans", as we're known, got together for what is becoming our annual tradition, a group photo ... from left to right ... me (a.k.a. Susan from Florida), Susan from North Carolina, Susan from New York, and Susan from Atlanta:
We're wearing CE T-shirts that were designed by one of the gals on the messsage board, it's a stunning work of art ... and I blinged mine up with rhinestones, of course! (it's the same design that's on my apron, pictured above)
Once again, I went back to my room Thursday night thinking I would blog for a while, but instead collapsed into bed. I needed some rest for an early start on Friday!